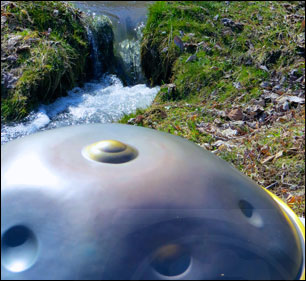 TRM™ Applications

TRM took birth in 2004, originating as a program for cancer survivors. TRM is designed to help cancer survivors process difficult emotions around cancer using drumming and music making while enhancing compassion and acceptance through mindful awareness. Group drumming allows for a fun and expressive modality to express what is held in the body. TRM also uses the science and practice of music and mindfulness to help increase presence, compassion, acceptance and to optimize health and relationships.
TRM has been offered to numerous cancer survivors in community centers specializing in cancer support (such as Wellspring and Gilda's Club, both in Toronto, Ontario, Canada), various hospitals that provide oncology care, (i.e. Toronto General Hospital, Women's College Hospital, Sunnybrook Hospital) as well as hospices in and surrounding Toronto, Ontario, Canada. The TRM intervention has consistently generated positive feedback from participants in the form of informal feedback and program evaluations. Some comments from participants include:
"It opened a window for me…it allowed me to experience being mindful in a non-threatening environment --- rhythmic, musical, joyful, and with a group of people that had common fears and sufferings"

"I did not expect to gain so much from this workshop! Every week I felt a little lighter & just an overall calmness. I find myself tuning into the sounds of my drumming circle now when I am feeling anxious to help me calm down. It really works."

"I truly believe that this workshop is beneficial to anyone who has undergone cancer treatment, or is currently undergoing treatment"

TRM offers an experiential and positive modality to cultivate therapeutic presence and self-care for health care professionals. Therapeutic presence is the foundation of effective helping relationships. Presence creates a neurophysiological experience of safety within one's self and others, which allows therapy to be most helpful. TRM offers health care providers take home tools for presence with self and others, as well as nourishment for self-care. These workshops provide an opportunity to experience how mindfulness and rhythm practices can cultivate therapeutic presence and wellbeing, reduce stress, and increase vitality and social connectedness.
TRM has been offered as a modality for health professionals cultivating presence and self care for 9 years with tremendous feedback. Here is a sample of how health care professionals have described TRM:
"An amazing opportunity to become introduced to the power of rhythm to inform our practice of mindfulness and our ability to be present to ourselves and others."

"I really appreciate the mix of research findings, mindfulness themes, different rhythm and meditation activities and group member's reflections."

"I loved the fun of drumming, listening to self while listening to each other; I loved the group interactions that happened via the drumming, which allowed for greater openness and depth of sharing than words can allow!"

TRM helps to cultivate teachers' presence as well as reduce stress and enhance teacher student and parent relationships. Presence allows teachers to perceive what is optimal to enhance learning by being fully attuned and in the moment with students. Teachers' presence creates a safe and positive environment, which promotes attention and students' engagement in learning.
TRM increases vitality and positive emotions while reducing stress and difficult emotions. Group drumming offers entrainment, harmony and connection with other staff as well as with one's self. Rhythm and mindfulness practices offer teachers tools to maintain inner calm and compassion in the classroom. Experiential tools for cultivating presence using rhythm and mindfulness modalities are integrated into the program.
"Relaxed feeling, release of tension in the body, sense of community with the team, and sense of focus"


Group drumming has been demonstrated to enhance group cohesion and social connectedness. TRM is ideal for team building for teachers (and health care staff as well as in businesses or corporations). Past participants have shared these benefits after experiencing a TRM group:
"Provided a relaxing break from work and an opportunity to express feelings"

"Very effective for bringing team together – not verbally – unusual and new"

Enhancing positive mental health is a key benefit of TRM. Group drumming and mindfulness practices help to increase wellbeing, positivity and mental focus, while reducing negative mood disturbance. TRM also focuses on generating tools for emotional regulation and resilience. TRM provides an opportunity to explore ways of coping and moving through difficult emotions via meditation, rhythm-making and verbal sharing. Programs are geared to benefit people who are experiencing Depression, Anxiety Disorders, Post-Traumatic Stress, Seasonal Affective Disorder, or those seeking Personal or Spiritual Growth.
Past participants have pronounced what they enjoyed about TRM:
"Definitely, the drumming!!! I loved being able to be with myself and the rhythm and then also being able to connect with others in rhythm. It was very powerful."

"I felt very relaxed and at peace afterwards. Also had a good sleep for the first time in a long time."

"Learned to not be so shy, feel more relaxed."