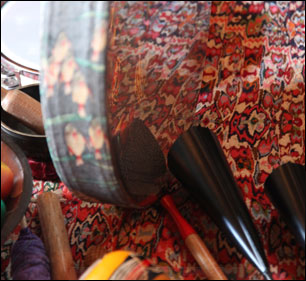 Contact Us
For Workshop Bookings and Information
Please contact Camilla at
info@rhythmandmindfulness.com
Mailing Address
Dr. Shari Geller and TRM Workshops
250 Eglinton Ave West, Suite 200
Toronto, Ontario, M4R 1A7
Canada
Phone: (416) 855-2624 ext 1
Fax: (647) 729-5551
eMail:
drsharigeller@rhythmandmindfulness.com


Dr. Shari Geller - Founder of TRM.
Dr. Shari Geller is an author, clinical psychologist, and creator of the Therapeutic Rhythm and Mindfulness Program (TRM). With over twenty years experience weaving psychology and mindfulness, Shari co-authored the book, Therapeutic Presence: A Mindful Approach to Effective Therapy. Shari has a long-term personal mindfulness meditation and drumming practice. Her training with teachers and neuroscientists, along with her personal practice, inspired her to integrate the benefits of mindfulness, group drumming and emotion focused awareness into one comprehensive program (TRM). Shari serves on the teaching faculty in Health Psychology at York University and for the Applied Mindfulness Meditation (AMM) program at University of Toronto. Shari is an adjunct faculty in the Music and Health Research Collaboratory (MaHRC).


Camilla Graziani - Administrative Support
Camilla Graziani provides administrative support to Dr. Shari Geller and The Therapeutic Rhythm and Mindfulness Program. With a background in educational administration, particularly Montessori and Early Years Education, Camilla has a deep interest in mindfulness with and for youth and is committed to promoting and maintaining the organizational foundation for TRM. Please contact Camilla for any assistance with workshop bookings or program information.


Dr. M. Lee Freedman - Mindful Photographer
Dr. M. Lee Freedman is a Child Psychiatrist, photographer, and mindfulness teacher with 30 years experience in private practice. She has discovered the healing potential of photography with its opportunities for personal and spiritual growth, enriched interpersonal connectedness and self-expression. Dr. Shari Geller and Dr. M. Lee Freedman have co-facilitated a number of engaging TRM workshops combining rhythm, meditation and mindful drumming.



Dr. Norma D'Agostino - Principal Investigator
Dr. Norma D'Agostino is a Staff Psychologist at the Princess Margaret Cancer Centre. Dr. D'Agostino has over 10 years of professional experience in pediatric and adult psychosocial oncology. Her clinical work and research focuses on young adults with cancer, including long-term survivors of childhood cancer. Dr. D'Agostino eagerly accepted Dr. Geller's invitation to head the TRM research team as she believes TRM is an intervention that has the potential to help cancer survivors of all ages maximize their quality of life.


Trina Diner - Co-Investigator
Trina Diner, BA, IT (Mgt), has worked in the healthcare field for 12 years. Currently she is the manager of Telemedicine and Palliative Care at Thunder Bay Regional Health Sciences Centre. Trina also sits on the Lakehead Nurse Practicioner Led Clinic's Board of Directors. Trina's background in Tele-visitation, where patients are connected to family and friends while in hospital, to ease loneliness and isolation and increase connection and positive emotions, led to her interest in TRM. In particular she is exploring how Telemedicine could be leveraged to bring this innovative program to a broader audience.


Dr. Scott Sellick - Co-Investigator
Dr. Scott M. Sellick, Ph.D., C. Psych is Director of Supportive & Palliative Care and Telemedicine Services at the Health Sciences Centre in Thunder Bay and the Professional Practice Head for Psychology, Social Work, and Spiritual Care. Scott holds adjunct appointments at Lakehead University and at the Northern Ontario School of Medicine. A clinician for 34 years and a psychosocial oncologist since 1988, Scott is currently responsible for a number of hospital-wide programs but continues to work with patients and their families; it's what he likes to do best. What immediately enthused Scott about TRM was how the program allows people to be actively involved in generating comfort, safety, acceptance, and overall wellness.


Marina Rain - Volunteer Research Assistant
Marina has been with the TRM research team for the past three years. She holds an Honours BA in Psychology and is currently completing an MA in Social-Personality Psychology at York University. Her interest in mindfulness and music led her to join the TRM team. Specifically, she is interested in the effects of music on personal well-being, self-perception, and interpersonal relationships.


Rebecca Phinnemore - Volunteer Research Assistant
Rebecca Phinnemore is our most recent addition to the TRM team, serving as one of our Research Volunteers. Rebecca is an Honours Undergraduate student in Psychology at York University who plans to pursue graduate studies in clinical Psychology. She is excited to be a part of the TRM team because of her interest in group therapies, music and the arts, as effective means of seeking transformation in individuals. Rebecca has previous experience in the Market Research industry and also as an ESL teacher. Rebecca is committed to helping others and is passionate about research.