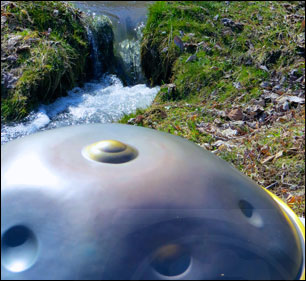 What is TRM™?
Therapeutic Rhythm and Mindfulness (TRM) is an innovative program that integrates the evidence based treatments of therapeutic rhythm (group drumming, music making, imagery), mindfulness, and emotional reflection in a positive and safe group atmosphere. TRM is designed to enhance positive emotions, such as vitality, joy and well-being, increase social connectedness and mindful awareness, and reduce anxiety, depression, fatigue, and overall negative mood disturbance.
Group drumming and rhythm modalities provide direct contact with one's in-body experience. Through musical expression, difficult emotions can be processed (i.e., stress or trauma) in a fun, empowering and non-verbal way. Drumming also helps to create harmony in the mind and body, which promotes vitality, neurophysiological integration and wellbeing.
Mindfulness is based in practices to help cultivate present moment awareness. Mindfulness includes approaching our experience with acceptance, non-judgment, patience, beginner's mind, trust, compassion, and non-attachment. TRM uses drumming as a way to enhance mindful awareness through a focus of being in the moment, in rhythmic connection with others.
Intentional drumming allows for emotions to be accessed and expressed with acceptance. TRM provides a safe environment for self-expression and for group connection. Skillfulness and comfort in emotional awareness, in relationship with self and others, helps to regulate difficult emotions, and to increase resilience.
Professionals who experienced TRM described the program:
"The workshop opens your heart, mind and body to a wonderful synthesis of music, mindfulness, community, and drumming. Anyone who can breathe, can participate in this workshop. You do not have to be a musician to participate or benefit!"

"This group offers a unique way of experiencing mindfulness, music and community. Each aspect in and of itself can be very powerful but when they are all together something truly amazing occurs. "



TRM™ Program
A TRM™ program consists of 6 weekly, 1.5 hour sessions, with a full day retreat between week four and five. The full day retreat offers an in-depth opportunity for cultivating presence and wellbeing with rhythm and mindfulness techniques as well as to deepen group cohesion.
Each of the TRM sessions follows a protocol, as described in the TRM training manual, and based on evidence based programs for recreational music making as well as mindfulness based stress reduction. Each session focus on a theme to help cultivate presence and mindful awareness, which means being completely aware and in touch with one's present moment experience with acceptance and non-judgment. Themes include intention, grounding, authenticity, loving kindness, compassion, receptivity and integration.
TRM facilitators are health professionals who have been trained in the therapeutic rhythm and mindfulness professional training program, with knowledge and experience in the TRM protocol. TRM facilitators are skillful in both rhythm and mindfulness modalities, as well as flexible, open, present, and emotionally attuned to what is poignant from session to session for each individual as well as the group as a whole.